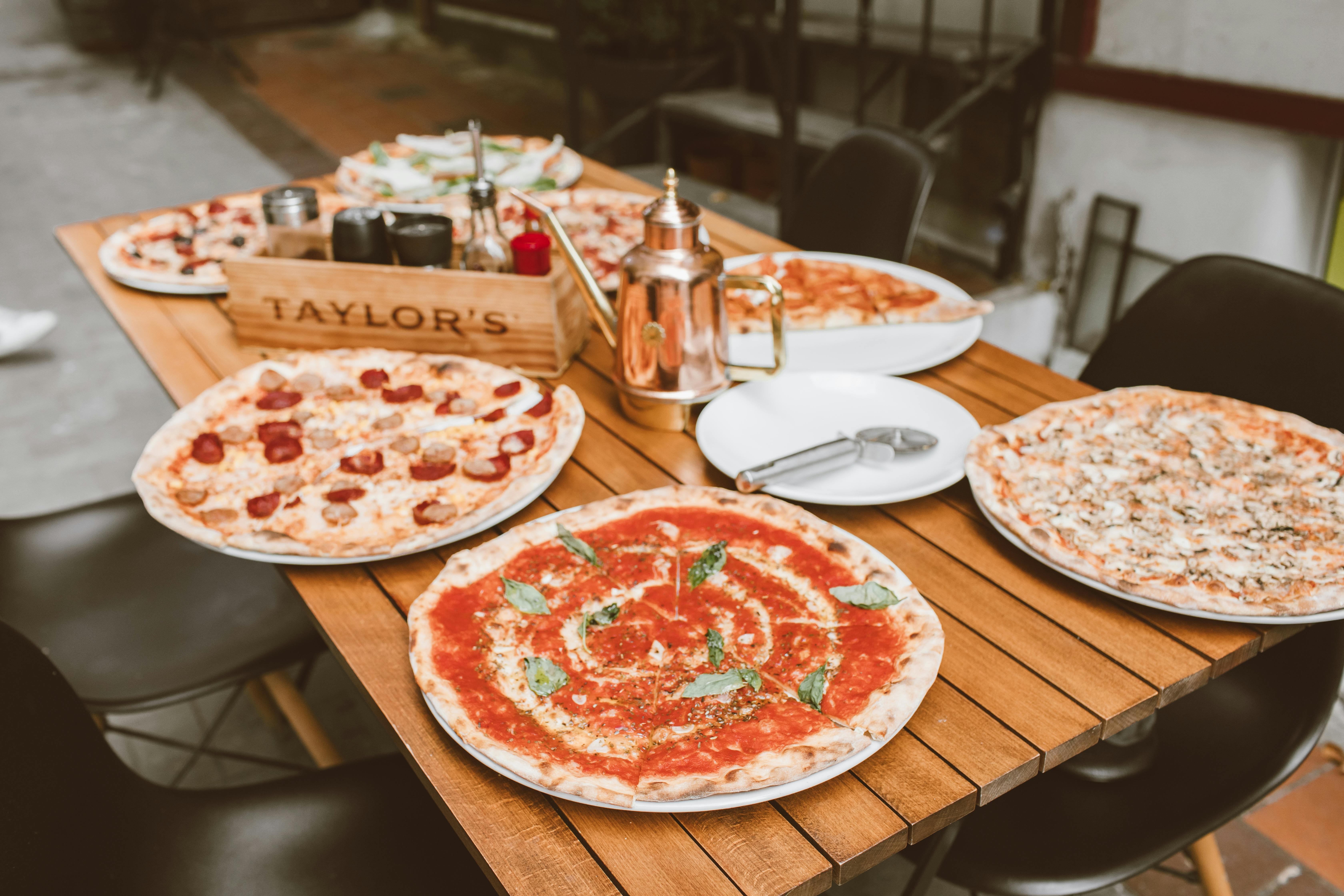 Pizzeria Del Matti is an Italian restaurant launched in 2014 by Chef Ziyad who, together with his team, are passionate about serving customers best quality pizza. The restaurant uses fresh local ingredients to make the wood-fire pizza. The current location of Pizzeria Del Matti is St. Mary's Sydney (NSW 2760), Australia. The company's pizza menu has Italian salad, supreme, balsamic, fish and chips, margherita, calamari Del Matti, chicken mushroom, boscaiola sauce, panna cotta, prawns risotto, etc. (Pizzeria Del Matti 2020). These pizza dishes come with great prices and customers have the option to order them online.
A full menu is available online and customers get delivery confirmation text after placing an order. I work as customer attendant at Pizzeria Del Matti restaurant. One of my key duties is to ensure that customers are fully satisfied with the services they receive. This way, the company's profits are maximised.
In summary, I greet customers, provide menus, respond to customers' questions, take orders, serve food and drinks, rearrange tables and seats, and keep the premises clean. I also assist and support other restaurant staff with preparation and delivery of orders placed by customers. For instance, I assist chefs to prepare the dishes and beverages and also help with billings and cash collection.
My Performance
As Shammot (2014) explained, it is the role of the human resource management (HRM) to determine the appropriate time for recruiting, the type of information to issue to targeted applicants, and the group of people to include in the recruiters' team. In other words, the HRM had to post vacancies for me to select the most suitable placement. During my preparation for job application, therefore, I consistently checked the company's website, under seek career, to find a position of interest.
I had a focus on Pizzeria Del Matti because of their overall efforts in communicating with existing and potential workers. So, what drove my job seeking activities this way included the range of attractive opportunities. The first attraction was Pizzeria Del Matti's benefits and inducements. The company offers exciting work setting, enhanced work practices, and allows employees to apply their innovation to make customer services better.
Secondly, encourages good working relationships among peers and teamwork. It results collaboration and fun in the environment of work. The organisation also pays good salaries and promotes self-worth, confidence, and has opportunities for career advancement. Employees are as well given adequate chances practice what they have learned. I usually found this company's job postings very inspirational, and often gave the reasons why Pizzeria Del Matti would be my great career and choice.
After getting the advertisement for the customer attendant vacancy, I wrote an application letter describing my strengths and skills that made me the best candidate for the post. The next step involved sending the application letter to the indicated email address or delivering it to the physical location. I, then, had to wait for response from the company. In screening of applicants, Pizzeria Del Matti's recruiters concentrate more on their understanding of performance indicators estimates and relate it to a candidate's achievements defined by diligence.
The level of individual intelligence is often not a priority. This organisation understands that the satisfactory performance of employees is found in their values and not just their intelligence level. I got to know about these practices after joining the organisation. Given the several numbers of applicants received by the restaurant for this position, they took a number of days to finally complete the placement process. The company adopts a more efficient screening process which focuses on the needs of the concerned position.
Again, the hiring procedures concentrate on attitude as the company is driven by a belief that employees will gain the required skills through training. That is, work ethics, teamwork and flexibility come before expertise and technical skills. A secret that works for Pizzeria Del Matti is that attitude-based hiring enables access to a broad talent group. Also, candidates qualified under the attitude test turn out to be better employees in the longer term. The individuals in such a category possess the correct mindset for learning, acquiring new skills, and contributing positively to the company's future.
Apart from values, the employer checked for excellent communication skills, ability to respond to a number of questions politely, and keenness in taking and following instructions. All these are very vital in addressing concerns of customers and delivering high quality services. The human resource management also needed candidates with willingness to learn.
For the company, this quality is used to measure the possibility that potential candidates will invest their efforts fully in promoting company growth. Quick thinking and fast execution of orders were of importance too. Team playing ability was also a requirement because the company aims to promote harmony among workers and flow of productivity.
Get Your Original Paper for Just $8 per page
My Induction and Training Process
Pizzeria Del Matti management is aware that it is better placed if the employees are knowledgeable and well-performers. Therefore, newly hired must be equipped with adequate knowledge to make them the organisation's valuable assets. The induction training for new employees has, thus, become an important practice. It requires excellent planning and execution efforts. At Pizzeria Del Matti, induction training is done to new employees as well as others that get transferred, promoted or re-categorised.
The training promotes quick settling of staff into the newly acquired positions and roles. For new employees, induction at Pizzeria Del Matti involves instruction to the job, co-workers, and organisational culture. The new employees are received and welcomed into the organisation and offered the basic information they need for quick and happy settling to begin working (Mchete and Shayo, 2020). In this socialisation process between the employer and new-employee, I learned the history of the company, its structure, rules, and fringe benefits.
The process involved combining people, processes and appropriate technology to optimize theimpact of the newly hired worker on the business returns. With its continuous induction, Pizzeria Del Matti comes up with its desired category of employees. This is because the communication of organisational values and vision is followed by the transformation of employees' in such a way that they easily integrate into the structure of the company.
In my experience, the induction process minimised the overall amount of time I needed to cope with the new work environment and attain my complete working potential. There is a boost in morale that one achieves from the induction training. The happiness with which one begins work drives away the thoughts of being absent from work, minimises burnout, and improves organisational performance through reduced turnover.
All the arrangements were made prior to the day I would begin working. After the initial introduction, I was given a mentor. The mentor would assist me during the induction, and I could still reach out after completion of the process. My mentor came from the customer service department but had higher seniority and served the company long enough to know its vision, mission, and rules. The aim of the mentoring programme include identification of goals attained in the initial few months of joining the company.
The information would aid the latter performance review procedures, acting as third-party perspective of my performance and progress. From the time of the interview, the human resource management kept track of the aspects of my work that required improving. The process of skill-gap analysis continued throughout the induction to ensure I learn all the skills to complete the assigned tasks and duties. I successfully came out of the probation period.
Induction process also included meet and greet sessions to introduce ourselves at an increasingly personal level. This happened at department level to promote team cohesion. It was a combination of team building activities planned during induction and a dinner out with co-workers. Such activities are often organised to establish good relationships at the time when new employees begin their work. I was also handed an Employee Handbook to aid my understanding of company and job components.
The handbook has often helped me recapture things I could not remember. Training and development are the duties of the human resources department and the effectiveness of these process are measured by organisational performance (Shammot, 2014). Employee training activities are often linked to an organisation's strategic objectives to enable attainment the stated objectives.
Department's Objectives vs. Organizational Objectives
Customer service department works with all policies that govern interaction between the company (Pizzeria Del Matti) and its customers. The department's rules describe the proper way to greet customers, address customers' complaints, and offer services to meet customers' demands. The key objective of my department is to ensure that customer feel valued, treated with fairness, and appreciated by the organisation.
One common objective between my department and the organization in this regard is commitment to quality function deployment. This involves identifying what is expected to satisfy customers and making those potential desires the company's target design (Kanyan et al., 2016). Currently, there is a shared understanding that customer demands include shorter time between ordering and delivery, quick taking of orders, tasty food, and conducive dining ambience. To meet this objective, Pizzeria Del Matti provides training to staff, schedules time for food delivery, improves inventory management, and even hires additional workers.
The company also support the customer service department in improving the food service establishment. Regular maintenance enables attainment of beneficial less troublesome service from restaurant equipment. Cleaning is a major part of maintenance. It results in identification of minor damages which can be corrected easily to avoid more costly expenses that accompany breakdown.
There is as well the quality management objective. This involves coordination of the organization as a whole to see it excel in every aspect of products and services that customers consider important. It is a long-term holistic goal for ensuring lasting success for the business. Here Pizzeria Del Matti prioritises changes in staff attitudes and practices and transformation of organizational systems and structures.
In line with this, the company improves effectiveness of communication, establishes supportive supervision, and boosts employee morale. It also has a quality circle that meets regularly to address work-related issues. Addressing consumers' needs and treating them appropriately is essential because they tend to share their opinions about a business on social media and other online platforms. This may damage a business' reputation in no time. Therefore, it is a good practice to frequently check customers' reviews so as to identify the areas that require improving. The management and improvement of food supply chain objective fits here.
The restaurant as a whole is responsible for serving its customers safe food. Kanyan et al. (2016) indicated that a single incident of food poisoning is bad enough for a company's reputation. Although the chefs prepare the food and customer attendants serve it, problems that occur affect the entire organization. To improve food safety, Pizzeria Del Matti conducts background check on its suppliers and inspects them regularly. One way of doing this is going through the local health department of a given supplier to acquire the inspection outcomes that prove their compliance. Effective communication with suppliers is as well essential as it ensures timely delivery of supplies.
Both the department and the organisation agree that customer service skills are crucial in controlling turnover. Employees must be taught the different ways of making customers happy. For this reason, the organisation and the organisation at large recommend employee training and development. Quality service is determined by employee attitude and training. Besides, the industry in which restaurants operate is among the extremely competitive ones across the globe.
The main problem for players in this industry is the similarity in food services offered (Pettijohn et al, 2008). This leaves customer wait staff the key means for achieving differentiation. Pettijohn et al. argued that customer service staff determine customer satisfaction, which dictates the prosperity, progress and profitability of the restaurant. Higher customer satisfaction raises repeat purchase possibility and results in greater sales for the restaurant.
Employee satisfaction in this context results from actions such as the nature of greetings they get from employees, how conduce the restaurant environment appears, speed of service delivery, and convenience. The dining experience also determines customer satisfaction. This includes waiting time, service quality, food prices, employee responsiveness, consistency of food quality, and menu variety.
Recommendations for Improvement
The company should not dread the costs associated with attracting and training fresh candidates as this denies new candidates the opportunities to pursue their dream careers. It so happens that recruitment is among the most expensive items in a company's budget. This happens mostly in cases where more friendly means such as employee referrals are either not available or are insufficient (Shammot, 2014).
The dreaded recruitment expenses include advertising, charges required by institutions an organisation liaises with (e.g. universities), screening of applicants to find the most qualified and skilled individuals, and salaries. For this reason, many organizations Matti opt for a high-wage method of hiring. This strategy leads to several applications for a single position and the company selectively goes for trained and experienced employees. As a local company, Pizzeria should concentrate more on offering jobs to the local population. It should, thus, be willing to hire and train new candidates.
Internal recruitment has also emerged as a beneficial approach as the company gets to fill positions using the well-known pool of workers. This cut costs because it only requires posting of the openings. The employees with relevant capabilities, efficiency, and competencies can then apply for their preferred vacancies. However, internal recruitment systems such as referrals could be harmful to both job seekers and the company. Employee referrals have an adverse effect on workplace diversity.
Lack of diversity in the place of work comes with negative effects on employee effectiveness due to the lack of new ideas. This also affects organisational performance in terms of productivity and attractiveness. The training process also needs to be more intensive to eliminate the wide range of unrealistic expectations that new employees often come with. To incorporate newness into training processes that involve internally recruited staff, Pizzeria Del Matti should engage outside company stakeholders.
Mchete and Shayo (2020) argued that properly selecting the training schedule is critical because the vulnerability with which employees join a company may translate into the poor performance if the induction is not efficient. Improper relation between practical and theoretical reasoning in employees contributes to negative attitudes toward work and results in unsatisfactory performance. According to Mchete and Shayo, orientation training shapes employee behaviour groups and nurtures a sense of teamwork.
In fact, for companies that avoid recruitment and training costs, it is important to note that more than cost-related expenses are compensated for by planned effective induction training. Mchete and Shayo (2020) elaborated that proper induction minimizes the overall amount of time taken before realizing employees' full efficiency, gaining superior morale, and sticking to the job (that orientation induces greater levels of commitment in workers). The authors further linked higher levels of customer satisfaction with exposure to increasingly effective induction training.